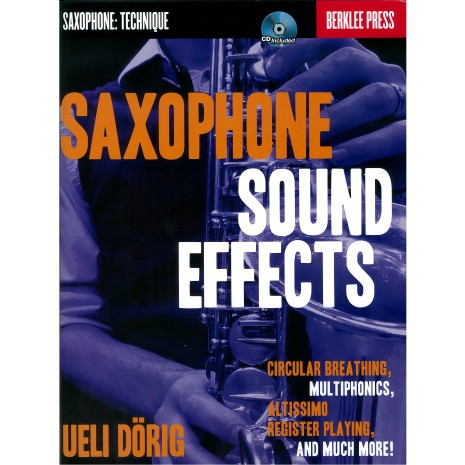 There are many music books that focus on a particular topic such as theory, harmony, rhythm, technique. Then there are, of course, the ever-popular transcription books full of famous saxophone solos.
It is sometimes difficult to figure out which educational materials will help you take your playing to the next level. The new book, Saxophone Sound Effects, written by Ueli Dörig, is a 32-page book that focuses on a topic which is not discussed much in the classroom, and is touched upon only lightly by most private saxophone teachers.
Dörig focuses on such areas as circular breathing, multiphonics, altissimo, and many more useful effects. I have been currently playing through this book over the past four weeks and find the lessons in this book to be well laid out and easy to follow. Ueli decided to split the book into two parts: Part I and Part II.
Dividing Up the Content
Part I contains all the techniques that will help you play freely on your instrument such as double and triple tonguing, circular breathing, ghost notes, harmonics, multi-phonics, and many more.
Part II takes the techniques you learned in Part I, and allows you to apply these "special effects" in different musical situations. This book includes a CD which lets you hear the saxophone sound effect as you are playing through each exercise.
First Impressions
What I particularly like about this book is that Ueli lays out each topic in a step-by-step manner and does not go into extensive detail to the point where one might become lost and potentially lose interest in studying that particular exercise. One great idea was the inclusion of a blank fingering chart in the back of the book. This chart allows you to write down, or color in the different false or alternative fingerings you found through experimentation. This helps you keep track of how to achieve a particular sound that you are looking for.
One recommendation I have for this book is the octave notation from (B1 to C4) should have it's own separate page in the very beginning of the book or the last page in the back of the book. I think this would be helpful because initially I found that while going through the book, the octave notation was not clear to me and I had to reference the last page of the introduction to understand what B1 or C4 was in reference to.
That said, to the book's credit, David Liebman, Bob Mintzer, and Joe Lovano suggest it as a great way for saxophonists to expand their expressive palette.
The Impact
As for me, going through the book has reignited my curiosity about the different sound effects I can potentially make on the horn, while also encouraging me to pay more attention to the effects and techniques I already have in place.
If you want to get more out of your notes and start to express those musical ideas you have been hearing but have not been able to produce, give this volume a try. It's a fine addition to any saxophonist's collection.
Click here to pick up a copy on Amazon.com.
Category: Saxophone Product Reviews
About the Author
Hailing from sunny Fort Lauderdale, Florida, Zachary Sollitto is a man of many skills and many passions. Since picking up the saxophone in sixth grade, he has gone on to become a marketing major with a minor in music at The College of New Jersey (TCNJ). Influenced by saxophone titans such as Seamus Blake, Eric Alexander, Antonio Hart, and Vincent Herring, Zachary's love for playing jazz is paralleled only by his passion for the world of saxophones and saxophone gear. Perhaps more than just about any saxophonist you're likely to meet, he maintains an up-to-the-moment awareness of the latest and greatest products hitting the market for saxophonists. Whether it's saxophones, mouthpieces, neck straps, or just about anything else, Zach is the man you want to talk to. Companies looking to have their saxophone products reviewed can reach him at
zach@bestsaxophonewebsiteever.com
.
View Author Profile