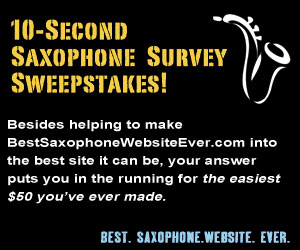 So it's over and done with, our very first sweepstakes here at Best. Saxophone. Website. Ever.! Out of hundreds of entries, one lucky winner was chosen at random for the groovy prize of a $50 gift certificate to The Woodwind Brasswind – one of the world's formost online retailers of all things wind instrument-related!
And the lucky winner is…
[saxophone long tone crescendo...]
Jeff Sofet from Helotes, Texas!
Based on the fun and success of this sweepstakes, the plan is to hold similar sweepstakes in the future, so please continue to keep your eyes on the site for more fun and games, and thanks so much to everyone who participated.
Until next time…
Category: News, Updates, and Brand Overviews
About the Author
I've been playing the sax since the late 80's, but my musical journey has run quite the gamut. The musical rap sheet includes tours with the Tommy Dorsey Orchestra and reggae master Half Pint, center stage at the L.A. Music Center, cozy cafes, raucous night clubs, gear-drenched studios, and the pinnacle of any musician's career - playing weddings in New Jersey! (duh). There's a lot of other stuff too, but you should be reading these blog posts and leaving comments instead. Now off you go!
View Author Profile