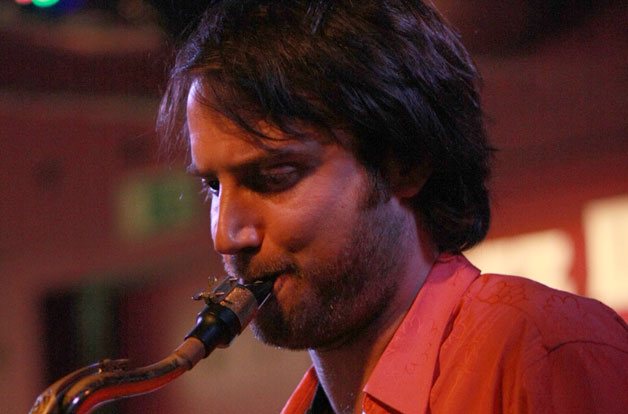 In this week's podcast, we speak with saxophonist, multi-reedist, composer and recording artist Sam Sadigursky. Sam's played and recorded with artists as diverse as Ray Brown and Brad Mehldau. He is the winner of the ASCAP Young Jazz Composer Award, the NFAA/IAJE Clifford Brown/Stan Getz Fellowship, and the John Coltrane Young Artist Award. Currently residing in Brooklyn, New York, he's playing in clubs, concert halls, and jazz festivals all over the world. As a composer, he has been commissioned by vocal groups, film directors, and has collaborated with modern dance choreographers in live performances of their works. He can often be heard with the Mingus Orchestra, Gabe Kahane, Lucia Pulido, and countless others.
Since 2007, Sam has released a series of recordings known as The Words Project. The series features poetry set to music  and has garnered enthusiastic critical acclaim. In fact, the debut earned a rare 4 star review by the New York Times and Time Out New York named it as one of the top 10 releases that year.
Topics Covered
Building a Career in Music
Budgeting time between multiple musical endeavors such as woodwind doubling, composition, and recording
The importance of collaboration with other musicians
The importance of versatility
The development of his practice schedule over the years
The creative process behind The Words Projectseries of recordings
Listen right here:
Audio clip: Adobe Flash Player (version 9 or above) is required to play this audio clip. Download the latest version here. You also need to have JavaScript enabled in your browser.
Category: Best Saxophone Players
About the Author
I've been playing the sax since the late 80's, but my musical journey has run quite the gamut. The musical rap sheet includes tours with the Tommy Dorsey Orchestra and reggae master Half Pint, center stage at the L.A. Music Center, cozy cafes, raucous night clubs, gear-drenched studios, and the pinnacle of any musician's career - playing weddings in New Jersey! (duh). There's a lot of other stuff too, but you should be reading these blog posts and leaving comments instead. Now off you go!
View Author Profile