After attending the NAMM 2012 trade show and being blown away by the amount of artists, vendors, and enthusiasts who showed up, I knew I had to go back next year. NAMM 2013 was another great year full of new equipment, great artists, and more vendors showing off their latest products to help musicians make even more music.
Although I had the chance to test out many existing and new products from various vendors, there was not enough time in the four day show to try out all of the newest saxophone equipment. I have included here a list of the various saxophones that I had the opportunity to try and in the near future will have some more reviews with an in-depth look at some mouthpieces and accessories that I had the opportunity to play on. In the upcoming reviews I plan to play-test this new equipment and perform A/B tests with my current setup so that players can hear the differences in what each product offers the musician.
Here is a list of products that I had the chance to play-test:
P Mauriat System 76 2nd edition un-lacquered tenor without high F#
At the 2012 NAMM show, the P Mauriat System 76 2nd Edition tenor was a big hit at the show as one of the company's models that offered the player a straight tone hole saxophone as well as keywork that is similar to some of the most popular vintage saxophones that many players are looking for today. At this year's show, P Mauriat introduced the same model tenor but without the high F# key. The 76 2nd edition without the high F# is so far my favorite P Mauriat saxophone. The reason I enjoyed this new model without the high F# key was the fact that this horn and its keywork felt very similar to the Selmer Mark VI that I currently play on.
Some players prefer the horn without the high F# key because the horn vibrates a little bit differently without that extra key. They may also value the fact that this saxophone is physically a bit lighter. I found while playing the P Mauriat 76 2nd Edition tenor that I could produce a focused sound with various timbres in the lower and upper register. I reviewed this same model with the high F# key last year and for me, this simple change to the saxophone gave myself that extra edge and comfort I was looking for in this model.
In addition to this new model, P Mauriat has come out with a new pro contoured hard case that will be coming out soon. When I first looked at the case, it reminded me of a Walt Johnson hard shell case. The P Mauriat case seemed incredibly sturdy on the outside and had a plush cloth interior with storage compartments to put your saxophone neck, mouthpiece, and accessories.
One feature that I wish more manufacturers added to their cases is the turnkey buckles. I believe this feature should be added on all new pro cases due to the added safety these locks add to your saxophone's protection.
Overall, it was great to see that P Mauriat has been listening to its artists as well as saxophonists in general regarding changes that can make the horn even better. I am excited to see what P Mauriat has to offer at NAMM 2014.
To learn more go to http://www.pmauriatmusic.com/en/products/item/4-tenor/31-system-76-2nd-edition.
MACSAX Empyreal tenor saxophone
I had a great time visiting the MACSAX booth and talking with Greg Wilson, Michael Crouch, and Eric Falcon about the new MACSAX Empyreal tenor that had been recently released. The MACSAX horn that grabbed my attention was the MACSAX Empyreal tenor with the cognac finish.
A couple of months ago, I had the chance to test out the Empyreal alto saxophone which had a great vintage vibe. Since the Empyreal alto came with Ken Beason's benchmark setup, the action felt great, the horn was free blowing, and the intonation was spot on with very little adjustment. If you enjoyed playing on the Empyreal alto, then you will really dig the Empyreal tenor.
The Empyreal tenor reminded me of a Mark VI body with a SBA neck. When I started playing it, I found the action to be similar to my Selmer, which made the horn feel right at home. I was able produce a full-core sound that had a lot of power behind it. I tried various Empyreal tenors and really liked the cognac-lacquered sax that Eric told me to first check out. MACSAX also had some great hard rubber and metal mouthpieces along with some new pieces that will be out soon.
Within a relatively short time span, MACSAX has come out with a great line of saxophones, mouthpieces, and accessories. I will definitely stop by MACSAX at every NAMM show just to see what they can do to make a great horn even better.
To learn more about MACSAX go to http://www.macsax.com/.
Andreas Eastman 52nd street tenor saxophone
This was the first time I had the chance to test out the 52nd Andreas Eastman tenor saxophone. I have read a couple reviews online as well a review in a recent NAMM issue and in Downbeat, but had not had the chance to play-test this saxophone. While at the booth, Ralph Torres, who is a product manager over at Eastman allowed me to try the 52nd street tenor and wanted my thoughts about how the horn played overall.
I found the 52nd Street tenor to be incredibly free-blowing and that it produced a very big sound. This horn really surprised me by how even the intonation was as well. I was also impressed by its solid build quality. I found the bis key to be a bit high, but that was my only comment in terms of improvements that could be made to the key layout.
This horn is definitely targeted (like many new "vintage" horns) towards those players who have been accustomed to their old SBA or Mark VI, or for those musicians who have not been able to afford the hefty price tag associated with many in-demand vintage horns. Some features I noticed on the 52nd Street tenor were the rolled-style tone holes and the adjustable palm key heights which I had previously believed that only Keilwerth had on their saxophones.
The horn comes in a multi-functional nylon fabric case. I really enjoyed play-testing this tenor saxophone and hope in the next couple of months to try out the 52nd street alto to find out how it plays in comparison to the tenor.
To learn more about this horn go to http://www.eastmanwinds.com/saxophones

Theo Wanne Mantra tenor saxophone
Although I was not able to try out the Theo Wanne Mantra tenor at NAMM 2012, I had the opportunity to test play one at this year's show. Theo had the Black Nickel, Vintified, Silver Plate, and Platinum finished tenors on hand. I was able to get my hands on a Platinum finished model. The Mantra tenor has been written up in Downbeat, JazzTimes, and was selected at 2012's top 50 products at the NAMM show last year. This Theo Wanne tenor has 30 innovations and features such as 20+ adjustment screws, premium kangaroo pads, and a Mantra metal mouthpiece included with every horn. I will be reviewing the Mantra later this year with a more in depth look at what this tenor has to offer.
Overall, I found that while playing the Mantra tenor, the upper register was incredibly clean and focused. I found this horn to be on the brighter side in comparison to the other tenors I tried at the show, and I found the Mantra tenor, although completely unique, to embody many great features of Selmers and Conns, but with modern keywork.
To learn more about the Mantra tenor go to http://theowanne.com.
Inderbinen tenor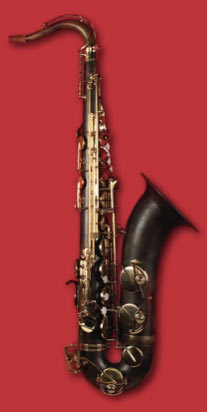 The Inderbinen tenor is a completely hand-made horn. This was the first year that Inderbinen came to the NAMM show as well as my first time getting a chance to play on one. The only time I have ever seen this horn in action was when tenor saxophonist Troy Roberts was playing on one. The best way to describe the Inderbinen tenor would be to take the keywork from a Yamaha 62 (almost identical) and combine this keywork with a finely constructed horn.
I found the Inderbinen tenor to produce a very neutral and even sound. If you are interested in purchasing a Inderbinen there is a one and a half to two year waiting period. There are about twenty of these horns built each year and the work done is based on what you are looking for, so each tenor is completely unique. I found the price point for this tenor to be much higher relative to other horns at the show (the tenor was going for $11,875 U.S. dollars).
To learn more about the Inderbinen tenor go to http://www.inderbinen.com/en/tenor-en.
Keilwerth MKX
My first tenor saxophone was a Keilwerth EX 90 Series III. I really enjoyed playing on this tenor and bought this intermediate model at the time because the SX90R professional model was out of my price range. The Keilwerth MKX is trying to capture more of the "vintage" vibe and at the same time embody some of the features that Keilwerth is known for.
When I was talking to Al Maniscalco, product manager at Keilwerth, he told me that the design embodies a more traditional layout, which means straight tone holes, standard size pearls, and a palm key layout that reminded me of my Mark VI. I personally thought this was one of the best Keilwerths I had ever played. I do like the adjustable palm keys and oversized pearl key touches that are on the SX90R model alto and tenor Keilwerths, but I prefer a more traditional key and tone hole layout which is why I enjoyed playing this tenor so much.
The MKX still has the oversized bell as well as many features associated with the SX90R. This sax will come in a hard shell J Winter case, which is a great case in its own right, and I am happy to see that more and more manufacturers are including great cases with their professional-level saxophones. I believe this Keilwerth model will attract players who want that vintage feel but with a great modern sound.
(surprisingly Keilwerth does not seem to have a web site, any readers who know of a URL for a Keilwerth website, please let me know).
Yanagisawa 992PG
When I visited the Conn-Selmer booth, Bob Litchy, director of product marketing for saxophones, told me to check out the Yanagisawa 992PG. I played on a Yanagisawa 991 as well as a Selmer Mark VI throughout college and did not expect to see a Yanagisawa 992PG tenor due to the fact that only a relatively small number were produced .
I found out that the Pink Gold model is a mix of sterling silver and copper, which gives it the pinkish color. When I played the Yanagisawa Pink Gold tenor saxophone is was very similar to my 991 in terms of keywork, but the sound was different. I found the pink gold finish to have a warmer sound in comparison to the regular gold lacquer .
The upper register seemed to be a bit brighter as well as louder in the palm keys. The pink gold finish is extensively engraved and is my favorite model that Yanagisawa produces due to its warm but complex sound.
To learn more about the Yanagisawa 992PG tenor saxophone go to http://www.yanagisawasax.co.jp/en/saxophones/index/20.
RS Berkeley Virtuoso gold plated tenor saxophone
It was great to visit the R.S. Berkley booth this show after reviewing the Virtuoso unlacquered tenor saxophone. This year, I had the opportunity to try out the gold plated Virtuoso tenor saxophone. There was a silver plated, black lacquer, and un-lacquered model but the gold plated was my favorite one.
The gold plated Virtuoso had a bit more edge and played brighter throughout the horn. This sax was one of the most free-blowing horns at the show with very little resistance. It was great to see Don Braden and Tim Ries, and to watch various artists test out the Virtuoso saxophones. I am glad that Les Silver has added another great horn to the marketplace which gives the player a great horn for the price.
To learn more about the RS Berkeley Virtuoso Gold Plated tenor saxophone go to http://www.rsberkeley.com/virtuoso-tenor-saxophones/
Trevor James Signature Custom
On my last day at the NAMM show, I stopped by the BARI Woodwinds booth and saw a group of saxes lined up. When I walked over, I recognized that these were the signature custom saxophones by Trevor James. I have heard a lot of buzz about these horns over in Europe, but have never seen these saxophones at any music stores in the United States.
I decided to try out the Signature Custom raw finish because many saxophone manufacturers are promoting their "vintage" saxophones and I wanted to see how this horn stacked up. The Signature Custom, like many of the saxophones I tried, was quite free-blowing. This horn had a edgy but darker sound compared to horns made by other manufacturers. I found the pearl touches to be more concave than I was used to, but one could get quickly used to this feel. The Signature Custom responded great, the overall intonation was pretty good, and I hope to see a few of these Signature Custom models in music stores around the U.S. soon.
To learn more about the Trevor James Signature Custom tenor saxophone go to http://tjsaxes.com/products/tenorsaxes/signaturecustom/signaturecustom.
Overall Thoughts
NAMM 2013 was overwhelming (but in a good way). From 2012 to 2013 I have seen more and more saxophones from Taiwan, China, Vietnam, and other countries that are spending more and more time refining their saxophones. The horns I play-tested at the NAMM show had one major thing in common, they all played great.
Every saxophone I played tested was free-blowing, had a comfortable key layout, and the intonation has gotten better and better. I am glad to see more affordable professional lines of saxophones that truly offer a value to the advancing student as well as professional looking for a pro horn, but not wanting to pay the high price associated with many vintage saxophones.
I hope this overview offers a bit of an understanding of what each horn has to offer. Hopefully this will help some of you on your quest for your first pro saxophone, or maybe just another horn to add to the collection.
Looking forward to NAMM 2014!