Selmer's Reputation Speaks for Itself
Ask any saxophone player, and they'll tell you that Selmer saxophones are the standard by which all other saxophones are measured. Selmer saxophones are world renowned for their quality both in manufacture and in musical tone. Not only is a Selmer saxophone the clear choice of most professionals, but it is one of the most commonly played saxophone for students as well. With models appropriate for a wide range of experience and budgets, there is a Selmer saxophone for everyone from the beginning student to the seasoned professional.
How Does a Selmer Saxophone Compare?
There's no lack of competition in the musical instrument market. There are many companies which offer reasonably high quality saxophones. Yamaha is the closest competitor in terms of the best saxophones sold, and brands such as Keilwerth, Jupiter, and Yanagisawa have made inroads as well.
While we have nothing bad to say about any of these instruments, a Selmer saxophone still represents the gold standard by which others are compared. Since Selmer first developed the Mark VI in 1954, Selmer's best saxophones have been a clear favorite of students and professionals alike.
The Selmer Sound
The Mark VI set the standard for all saxophones, becoming the choice of jazz greats from Phil Woods to Branford Marsalis to Kenny G. If you've listened to jazz music at all, you're undoubtedly already familiar with the warm, full bodied tone of a Selmer saxophone.
And while the classic Mark VI is still a clear favorite amongst jazz musicians, the newer Selmer models have continued to be well received by a diverse group including Gary Bartz, Ralph Bowen, Fred Hemke, and Mark Colby.
While there are certain tonal characteristics (warm, full bodied) which are common to Selmer saxophones in general, there are differences between one Selmer saxophone and the next. Silver saxophones, for instance, tend to be warmer and more full-bodied, whereas clear lacquered saxophones tend to have a brighter sound.
Selmer USA and Selmer Paris: Vive le Difference!
Selmer saxophones originated in France, but are also manufactured in Asia. Many sax players claim the French manufactured Selmer Saxophones have a warmer sound, and they are revered by classical artists, while the American made varieties tend more towards brighter, crisper sounds, and are preferred by some jazz musicians.
USA Series: Which Sax is appropriate for whom?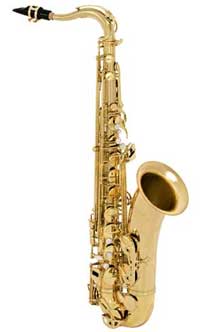 There are several distinct series of American made Selmer saxophones, each of which spans the gamut of the saxophone family (soprano, alto, tenor, baritone). Regardless of which series you choose, silver plated Selmer saxophones tend to have a warmer, more full-bodied sound. Saxophone players disagree regarding the influence of lacquer on an instrument's sound. Ultimately, sound preference is a matter of personal taste. What is known for certain is that lacquered instruments tend to last longer because the coating gives them some degree of protection from outside elements.
(NOTE: The "L" at the end of the various model number stands for "Lauquer" while the "S" at the end of other model numbers stands for "Silver.")
The 500 series of Selmer saxophones (including AS500, AS500S, BS500,TS500, and TS500S) are an excellent choice for beginning students. Prices range from $1945 to $2740, depending on the type of sax and the finish chosen.
The 600 Aristocrat series (including AS600, AS600L, SS600, TS600, and TS600L) is also appropriate for students. These models are very similar to the 500 series, and are also designed with the student in mind, but are slightly less expensive, with prices ranging between $1875 and $2160.
Paris Series Selmer Saxophones
There's nothing quite like the warm tones of a French-made Selmer saxophone. Like their American counterparts, they come in a variety of models. While they are pricier, many sax players feel that the added expense is worth it for a truly world class instrument.
Super Action 80 Series II. Series II saxophones are primarily for professional level musicians. They range in price from $4199 for an alto saxophone to $8699 for a baritone saxophone. They feature the dark tone typical of French Selmers.
Series III. The Series III models are similar to Series II, and are also appropriate for professionals. Their tone is best described as slightly darker than the Series II. Prices range from $4099 to $4879.
Reference Lines. The quintessential Selmer saxophone, Reference 36 and Reference 54 Firebird are designed with the discerning professional in mind and produce a sound similar to that of the legendary Mark VI. Prices weigh in at a hefty $5299 to $7149, and quantities are limited.
Postlude
Selmer saxophones have been the industry standard for as long as any living musicians have been playing, and they have survived for a reason. Simply put, from the entry level through the professional ranks, Selmer makes an outstanding instrument.