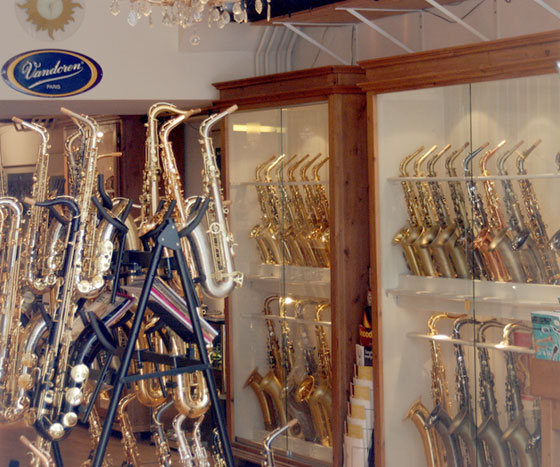 NOTE This article, as well as many other "list post" type articles (some of which are 10 or more years old) may feature products, resources, businesses, videos, or websites that are no longer. If you find any such outdated information, please let us know via our contact page so we can make the necessary updates. Thanks in advance for bearing with us, and helping us keep this site as current as possible(!).
When you decide it's time to upgrade your setup, it's difficult to figure out what music store carries the equipment you need as well as the staff that can best find the horn that suits you. From my experience, searching for the right saxophone is not as easy as it sounds. To help those saxophonist looking to change their setup, I have reviewed saxophone stores in the United States that carry the equipment every saxophone player is looking for and staff's the right people who will help you find the best horn.
1) Joe Sax
UPDATE: Sadly, since the publication of this article, Joe Sax has closed its doors.
Joe Sax is an encyclopedia when it comes to all things saxophone. Joe offers quality repair work and most importantly carries a vast line of vintage and modern saxophones. His website is easy to navigate and is constantly being updated with new sax gear.
Website: http://www.joesax.com
Location & Hours:
108 Cortland Avenue, Dumont, NJ 07628
Appointment only.
Phone: 1-800-876-8771
Outside U.S. 607-865-8088
2) Roberto's Woodwinds
Roberto's carries one of the largest selections of Selmer Mark's as well as a wide selection of reeds, mouthpieces, and ligatures. I have used his reeds on both tenor and alto (currently use a Roberto's Winds 3s for alto) and find them to be very consistent. I can guarantee that if you are looking for a specific mouthpiece, ligature, or horn, he will have it or know where to find it.
Website: http://www.robertoswinds.com
149 West 46th street New York, NY 10036
Monday thru Saturday 10:00 AM-6:00 PM, Sunday-Closed
Phone: (888)-7676-Sax or (212)-391-1315
3) USA Horn
USA Horn has a large selection of vintage and professional modern horns. Dennis carries such great saxophonists such including the Selmer Super Balanced Action and Selmer Mark VI in addition to newer horns by companies such as Yanagisawa, Yamaha, Rampone & Cazzani, and R.S. Berkley. If you are ever in New Jersey and want to test the old against the new, stop by USA Horn – you never know what you will find.
Website:  http://www.usahorn.com
1988 Morris Ave Union, NJ 07083
Monday thru Friday 11:00 AM-5:00 PM (appointments appreciated, and may be arranged before and after hours.) Saturday 11:00 AM-2:00 PM, Sunday Appointments for Sales.
Phone: (908) 688-3555
4) Chuck Levin's Washington Music Center
Chuck Levin's offers great deals on saxophone reeds, and also carries a large inventory of vintage and new saxophones. When I visited the woodwinds section, there were over 30 saxophones in one section! In addition to the saxophones on the wall, from vintage to new, Chuck Levin's had many rare horns in the back such as a Yanagisawa 992 pink gold soprano. Virtually any new saxophone you could think of, Chuck Levin's carries. If you are ever in Washington and need anything related to the saxophone, stop by Chuck Levin's.
Website: http://www.chucklevins.com
11151 Veirs Mill Road Wheaton MD 20902
Monday 10:00 AM-9:00 PM, Tuesday 10:00 AM- 6:00 PM, Wednesday 10:00 AM-9:00 PM, Thursday 10:00 AM-6:00 PM, Friday 10:00 AM-9:00 PM, Saturday 10:00 AM-6:00 PM, Sunday-Closed.
Phone: (301) 946-8808
5) Tenor Madness
Tenor Madness carries one of the largest selections of Selmer Mark VI's as well as modern horns such as P Mauriat, Yamaha, Yanagisawa, Selmer, Keilwerth, etc. In addition to their great selection of horns, Tenor Madness owner Randy Jones has been praised by many players as one of the best saxophone repairman in the business. If you are looking to try out some of the best horns on the market or get your current horn setup up professionally by Randy Jones, definitely check out his shop.
Website: http://www.tenormadness.com
2855 Deere Rd Waterloo, IA 50701 USA.
Call for appointment.
Phone (319) 234-3561
6) Saxquest
Saxquest is a shop that has it all. It has a sax museum, teacher listings, free trading postings, and most importantly a vast line of vintage and new saxophones and sax accessories. If you are looking for a particular mouthpiece, saxophone or want to get some custom work done to your horn, you definitely have to stop in.
Website: http://www.saxquest.com
2114 Cherokee St.
St. Louis, MO 63118. Call for store hours.
Phone: (314) 664-1234
7) Saxforte
UPDATE: Sadly, since the publication of this article, Saxforte has closed its doors.
Saxforte is the place to go if you are looking to try out the best modern saxophones. Saxforte carries some of the finest modern saxophones on the market such as Selmer, Yanagisawa, and Rampone & Cazzani. In addition to a large inventory of saxophones, Saxforte carries many of the accessories that just about every player needs. Stop in to Saxforte if you are looking for the best modern saxophone.
Website: http://saxforte.com
106 Citation Way
Greenville, SC 29615-6058. Appointment only
Phone: (864) 449-4444
8) KB Saxophone Services
If you are looking for vintage Selmer's or are interested in the new Tenor Madness™ custom saxophones, then KB saxophone services is the shop you have to visit. Kim Bock, who worked for years with Randy Jones, decided to open his own shop in the city. Kim is an excellent repairman and is constantly overhauling and setting up many local professional players' horns. In addition to the large line of vintage Mark VI's, Balanced Action, and Super Balanced Action saxophones, KB Saxophone Services carries vintage mouthpieces such as Berg Larsen and Otto Link. Be sure to check out his shop if interested in professionally set up vintage horns.
Website: http://www.kbsax.com
44-02 23rd Street, Studio 220, Long Island City, Queens, NY 11101.
Phone: (212) 683-2985
9) Dave Wilson Music
Music educator as well as professional saxophonist Dave Wilson carries student and professional new and old saxophones. He has a vast line of mouthpieces and horns that any player would be interested in trying out. He is very helpful when it comes to picking out the right mouthpiece and horn. Check out his website for updates on new saxophones and mouthpieces.
Website: http://www.davewilsonmusic.org
Lancaster, Pennsylvania, call for driving directions.
Phone: (717) 475-7168
10) Sax Alley
Sax Alley carries a wide range of saxophones and mouthpieces. If you are interested in the P. Mauriat line of saxophones, this is the best shop to visit. Sax Alley is the #1 dealer in P. Mauriat horns and carries almost any P. Mauriat model you can think of. Sax Alley also provides great repair work and as the name of the shop indicates, this is a store that truly focuses on saxophonists.
Website: http://saxalley.com
561 E Garden Drive, Unit E, Windsor, CO 80550-3149
Tuesday through Friday: 10AM to 1PM and 2 PM to 5PM, Saturday: 10AM until 1PM
Phone: (970) 674-0222
11) PM woodwind
If you could not get to the sax shops in NYC, this is a shop you have to check out. PM Woodwind carries many vintage and modern saxophones as well as a vast line of mouthpieces for soprano, alto, tenor, and bari. PM Woodwind provides some of the best repair work you can find and has a knowledgeable staff who will find you just what you need.
Website: http://www.pmwoodwind.com
822 Custer Ave., Evanston, IL 60202
Monday, Tuesday, Wednesday, & Friday- 1:00 pm – 6:00pm, Thursday- 1:00pm – 8:00pm, Saturday- 11:00am – 4:00pm
Phone: (847) 869-7049
12) Kessler & Sons Music
Kessler saxophones is your one stop shop for any new modern saxophone. Kessler carries many different model saxophones from manufacturers such as Yanagisawa, Selmer, Keilwerth, and P. Mauriat along with their own line of saxophones. In addition to saxophones, Kessler and sons carries professional-level mouthpieces such as Theo Wanne. In addition, for the doublers out there, they offer other instruments such as flutes, clarinets, bassoons, and oboes. If you are a woodwind fanatic and haven't spent all your money or hit it big in Vegas, this is the shop to go to.
Website: http://www.kesslermusic.com
3 locations in Las Vegas. Check the "Locations" page  on website for addresses and phone numbers
13) Wichita Band Instruments
Wichita Band instruments offers many different woodwinds such as flutes, clarinets, oboes, and most importantly, saxophones.Wichita carries many vintage saxophones such as King, Conn, Selmer, etc. as well as modern professional horns. Wichita offers great repair work as well as a friendly trial policy so you can find the horn that suits you.
Website: http://www.wichitaband.com
2525 E. Douglas · Wichita, Kansas 67211 USA
Hours: M-F: 9:00-6:00 Sat: 9:00-2:00 Central Time
Phone: (316) 684-0291
14) Dominic's Music
Dominic's music is to place to try many brands of saxophones and get great repair work done. Dominic carries student to professional lines of saxophones and provides helpful tips on his website about ways to play your instrument as well as the importance of practicing and lessons.
Website: http://www.dominicsmusic.com (website no longer active, perhaps out of business, please contact us if you have any further information).
Enterprise Center Suite 840121 Loring Ave Salem , MA 01970
Open Monday-Friday 10 – 5, Closed Saturday & Sunday
Phone: (978) 745-5255
Conclusion
I hope this list will help lead you to the right horn, mouthpiece, ligature, and reeds that you are looking for. Besides the shops I listed, there are many more sax shops that I have not gotten the chance to review, and many of these also carry some of the best saxophone equipment on the market.
I'd love it if you guys could share your experience with any notable saxophone shops you have frequented.