Introduction
Back in May, I finally made the trip to visit my sister in Boston. While in Boston, I knew before I left I needed to check out the music scene as well as any music shops that focused on saxophones (problems of a gear head). Even though I was only visiting for a couple of days, I was able to check out the renown saxophone stores, Virtuosity Musical Instruments as well as the Boston Sax Shop. In this article I'll be sharing my experiences visiting the stores and trying out some of the many "goodies" I encountered.
Virtuosity Musical Instruments
Visiting the Store
When I visited Virtuosity Musical Instruments (VMI), although they were a full music shop offering trombones, trumpets, clarinets, flutes, french horns, and double reed instruments to name a few, they also had a pretty wide selection of saxophones (across the entire range), mouthpieces, reeds, ligatures, and other saxophone accessories.
When I arrived at the shop, I was greeted by Brett Walberg (Sales Manager), who handles the woodwind department. I told him I was visiting the shop while in town and was interested in checking out a few saxophones. From the wall, I picked out a few tenor saxophones that I had not played or play tested in quite some time. Brett showed me to the practice space where I could try out each instrument.
When I initially got there, I was looking forward to trying the Selmer Supreme alto which I know has gained some popularity but Brett informed me that unfortunately he was sold out and that they move pretty quick in the shop. The tenors I had a chance to play were the following:
Products
Selmer Super Action 80 Series I – I have played the Series II and Series III in the past and overall liked them but preferred other brands and models. This Series I played quite nicely from top to bottom but the one thing I personally have never been a huge fan of is the neck angle and height on the super action 80 series models. The angle for me always felt a bit uncomfortable compared to the Reference series tenors and the vintage Selmers.The main aesthetic difference I noticed on the Series I is front F is a pearl vs the tear drop shape, and also that the high F# key is a standard bar vs what I call the "boomerang" shape. For those of you that prefer the early Super Action 80 series saxophones, this one is a pretty nice example and with some further adjustments and for me personally, a neck swap, could be a really great tenor at a little above $3,500.
Yamaha Custom 875 – I own an alto Yamaha Custom 875 alto and have played a few very nice Yamaha 875 tenors in the past. Although the vintage and modern Yamaha 62 models are seen by some as some of the best saxophones Yamaha has produced while also retaining their value, I think the 875 is a Yamaha model that many players sleep on (especially at the current price that the "Z" and "EX" go for today, two models which are also great horns).This Yamaha 875 was quite free blowing and the action and keywork felt comfortable under the fingers. If you are a fan of Yamaha and looking for a professional model Yamaha but not at current market prices, I would recommend taking a look at the Yamaha 875 model because many times they could be a bit less expensive and the ones I have run into are typically in very good condition.
Yamaha 82zii Atelier Model: – This is a special Yamaha model which I believe originally was built specifically for Yamaha endorsing artists, but Virtuosity happened to have one in the store. The Atelier appears to be a Yamaha Custom 82zii at first sight, but the neck is different, and if you play test this model, in comparison to the new 82zii, I think you will see the difference in the keywork.To me, the Atelier has some of the best keywork on a modern horn today in terms of the setup. It felt more like a Selmer in terms of keywork, and this horn was very easy to get around on. Sonically, I felt the Atelier with the C1 neck was more focused compared to the V1 and E1 Yamaha necks, but I would be curious to try a KB or Boston Sax Shop Neck on this horn because I think a neck other than C1, which still happens to be my current preference might open this horn up a bit more in the upper stack.
Keilwerth SX90(R): I have owned a Keilwerth EX90 Series III which was an intermediate model Keilwerth offered years back. From a keywork perspective, switching from a Selmer or Yamaha to a Keilwerth, is definitely a change. My idea of Keilwerths was that if you were a fan of the vintage Conn's, then a Keilwerth was designed more from that perspective but with more modern keywork. The oversized pearls felt odd at first, but you get used to them pretty quickly.Overall, I really like the sound on this Keilwerth but the keywork and action for me is just not what I am looking for at this time. If you like Conn's but want modern keywork, I would highly recommend checking out either current Keilwerth's (like this one) or looking on the used market since these horns are built like tanks, sell used at reasonable prices, and will hold up mechanically for years.
Original Minty Selmer Super Balanced Action Tenor (a "special guest") – While at the shop, I was lucky to run into Tim Lin who was visiting Boston. I have known Tim Lin (Instagram:@timlinbebop) since I moved out to the Bay Area, and besides being a great player and solid person, Tim has a very nice collection of vintage Selmer's, Yamaha's, and other great horns, as well as rare, vintage and hard to find Link and Dukoff mouthpieces.While Tim was in the shop, he brought his recently purchased Selmer Super Balanced Action tenor. This one in particular was one of the cleanest SBA's I have seen in quite some time. Luckily for me, this SBA played as good as it looked. I played very evenly from top to bottom – which is a quality that I do not find with all SBA's. Sonically, the edge and color on the horn was very clean and a great example why so many players still seek out this vintage model. Unfortunately, at that time, this horn was not for sale (and I can see why!).
Overall Experience
I really want to thank Brett for his time and patience as I played tested multiple tenor saxophones. It was also nice to hear that Brett's goal with VMI was to create not only a place to purchase musical instruments and accessories, but also somewhere for musicians to come in and hang, network, and jam. Brett said although he is surrounded by great universities and players, there are very few venues for musicians to go out and play to network and hone their craft. He wants to make Virtuosity that type of open space to bring players together whether it be a meetup, masterclass, jam session, or any other type of relevant event.
To learn more about Virtuosity Musical Instruments, head over to their website.
Boston Sax Shop (BSS)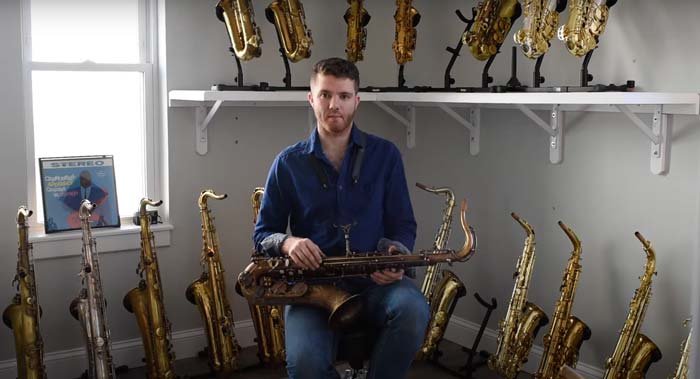 Visiting the Store
I can't believe its taken me this long to finally make it to Boston Sax Shop and visit with its prolific product designer, master repair man, and owner, Jack Finucane.
I first met Jack a few years ago at the NAMM shows when he had the Balam Strap and BSS strap, and had also just introduced his first version of the BSS Heritage Neck.
Since then, a lot has changed, as Jack has introduced, among some of his recent ventures, his own line of mouthpieces, reeds, Nexus saxophones, a new saxophone all-in-one repair and adjustment tool, and also brought in the great repairman and player, Frank Kozyra (Jack, I am trying to keep up!).
While at BSS, it was great to check out the shop as well as catch up with Jack and meet Frank. When I visited, Jack mentioned they were expanding the shop space – a project that has now been completed. This new space provides an area for not just saxophones to be displayed for play testing, but more importantly, a space for future masterclasses and well as jam sessions to be held.
While at BSS, I was able to try the following products.
Products
Overall Experience
I want to thank Jack and Frank for taking the time to meet up, "talk shop", and allow me to play test various horns and mouthpieces, and also learn about future products that they are working on (I guess I better start saving up!). All in all, Boston Sax Shop is a great spot in Boston if you are looking to check out gear, get your saxophone repaired, or simply meet up with other players because you never know who will be walking into the shop.
To learn more about the Boston Sax Shop, head over to their website.